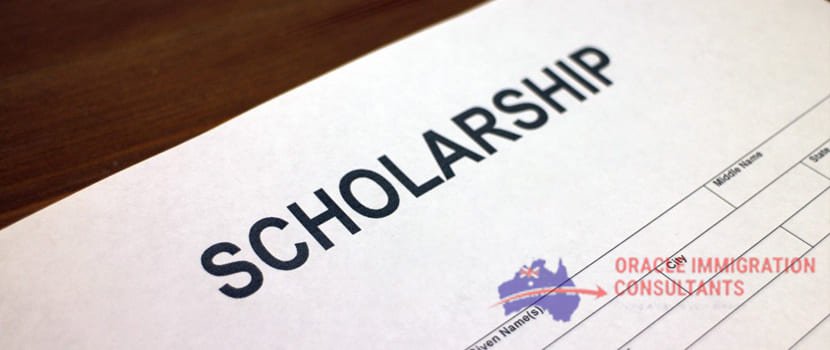 Are you looking to apply for an Australian Student Visa Subclass 500? Do you know that you may be eligible for scholarships to study in world class premier education institutions in Australia which conform with Australian Qualifications framework (AQF)?
There are many grants, scholarships, and bursaries available for international students to assist them financially with their studies in Australia.
They are offered by the Australian Government and education providers.
The major scholarships programs available for international students are as follows:
1. Australia Awards: The Australia Awards aim to promote knowledge, education links, and enduring ties between Australia and its neighbours through Australia's extensive scholarship programs. The program brings together scholarships offered by the Department of Foreign Affairs (DFAT), the Department of Education and the Australian Centre for International Agricultural Research (ACIAR).
For Year 2022, Department of foreign Affairs and Trade have offered 2075 Australia Awards scholarships and short courses to students from 27 developing countries.
Australia Awards are prestigious international scholarships and short courses offering the next generation of global leaders an opportunity to undertake study, research, and professional development in Australia.
These are further divided into 5 types of scholarships.
Australia Award Scholarships: These scholar ship sat participating Australian universities and TAFEs aim to contribute to the development needs of Australia's partner countries in line with bilateral and regional agreements by providing opportunity to citizens of developing countries in particular Indo-pacific countries. The aim is to help international students on these scholarships to drive change and contribute to their country's development.
These scholarships offer a variety of benefits including full tuition fees, Overseas Student Health Cover (OSHC), establishment expenses, contribution in living expenses, travel expenses to and from Australia and other benefits.
Participating Countries:
Participating Institutions:
Australian Catholic University
Aviation Australia
Bond University
Box Hill Institute TAFE
Bureau of Meteorology
Canberra Institute of Technology
Carnegie Mellon University
Central Queensland University
Charles Darwin University
Charles Sturt University
Chisholm Institute of TAFE
Curtin University of Technology
Deakin University
Edith Cowan University
Federation University
Flinders University
Griffith University
Holmesglen Institute of TAFE
James Cook University
Kangan Institute
La Trobe University
Macquarie University
Melbourne Polytechnic
Monash University
Murdoch University
Queensland University of Technology
RMIT University
Southern Cross University
Swinburne University of Technology
TAFE NSW
TAFE Queensland
TAFE SA
Tasmanian Polytechnic
The Australian National University
The Gordon Institute of TAFE
The University of Adelaide
The University of Melbourne
The University of New England
The University of New South Wales (including ADFA)
The University of Newcastle
The University of Queensland
The University of Sydney
The University of Western Australia
University College London
University of Canberra
University of South Australia
University of Southern Queensland
University of Tasmania (including the Australian Maritime College)
University of Technology Sydney
University of The Sunshine Coast
University of Wollongong
Victoria University
Western Sydney University
William Angliss Institute of TAFE
Australia Awards Pacific Scholarships:These scholarships provide people from the Pacific the opportunity to study at participating education institutions in the Pacific region, to gain and build the knowledge to influence their home country's development.
Participating countries are: Federated States of Micronesia; Fiji; Kiribati; Marshall Islands; Nauru; Niue; Palau; Papua New Guinea; Samoa; Solomon Islands; Tonga; Tuvalu; Vanuatu; and Wallis and Futuna.
Australia Awards Pacific Scholarships are currently offered for study at Pacific tertiary institutions in Papua New Guinea, Vanuatu, Fiji, Samoa, and Wallis and Futuna.
Australia Awards Short Courses are targeted programs of intensive training to address specific technical or soft skills. They are formal study or training opportunities, generally of less than three months' duration, delivered by an approved Australian higher education provider or an Australian Registered Training Organisation in Australia and/or in partner countries and are managed by DFAT.
The ACIAR (Australian Centre for International Agricultural Research) Fellowships Scheme provides the opportunity for partner country scientists involved in ACIAR-supported research projects to obtain postgraduate qualifications at Australian tertiary institutions, through the John Allwright and John Dillon Memorial fellowships.The primary aim of the Fellowship is to enhance research capacity in ACIAR partner country institutions.
In 2023, only applications from citizens of Cambodia, Lao PDR, Papua New Guinea, and the Philippines are being considered.
Australia for ASEAN scholarships are prestigious international awards offered by the Australian Government to the next generation of leaders from ASEAN member states.
By undertaking a master's degree, recipients develop the skills and knowledge to drive change and help build enduring people-to-people links with Australia. Each ASEAN member state will receive 10 Australia for ASEAN Scholarships. Applicants are assessed on their professional and personal qualities, academic competence, and their potential to impact on one of the four priority areas in the ASEAN Outlook for the Indo-Pacific: maritime, connectivity, economic development, and the sustainable development goals 2030.
2. Destination Australia: The Destination Australia Program (DAP) is the Australian Government's newprogram for domestic and international students to study in regional Australia with 1000 scholarships available for students looking to study in certificate IV and above. Australian tertiary institutions will be able to apply for scholarships of up to $15,000 per student, per year with 380 scholarships available for year 2022.
Destination Australia Program
Successful tertiary education providers for 2022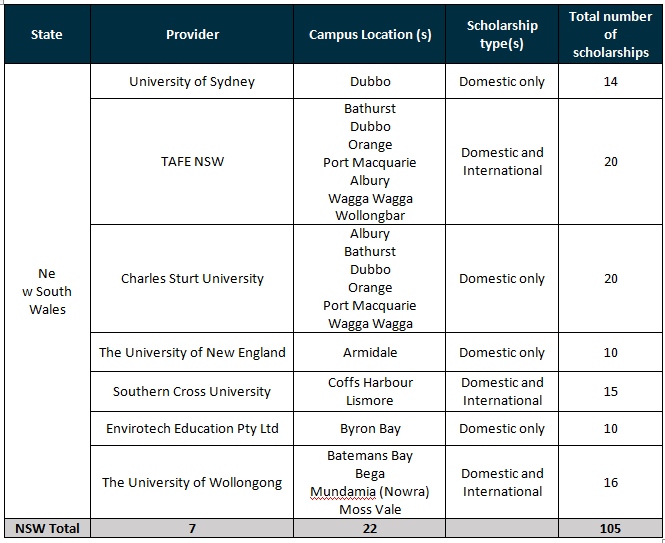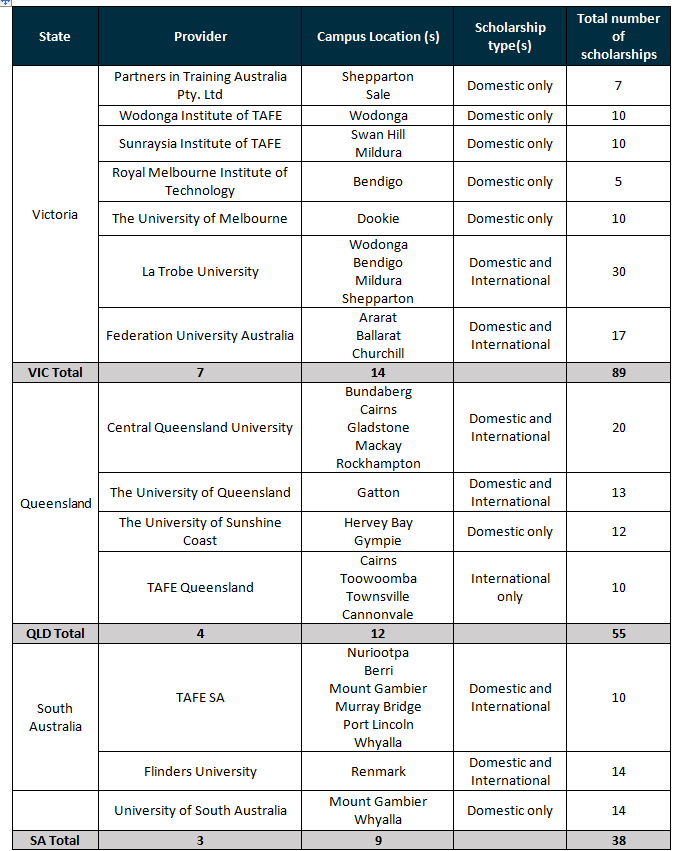 3. Australian Government Research Training Program (RTP):The RTP is a single flexible pool of funding to support both domestic and overseas students undertaking Research Doctorate and Research master's degrees. International students looking to apply for these scholarships need to apply direct to the education institution.
The objectives of the RTP are to:
(1) Provide flexible funding arrangements to support the training of domestic students and overseas students undertaking HDRs at Australian HEPs.
(2) Deliver graduates with the skills required to build careers in academia and other sectors of the labour market.
(3) Support collaboration between HEPs and industry and other research end-users; and
(4) Support overseas students undertaking HDRs at Australian HEPs.
Participating Universities:
4. Provider Scholarships: Australian education providers regularly offer scholarships to qualifying international students, based on academic merit.
Contact us at Oracle Immigration Consultants to find out if you are eligible for any scholarships to save tuition fees. We help you find the Australian Universities and colleges offering international students on a student visa subclass 500 various types of scholarships reducing your fees by considerable amount leading to huge savings. We are a premier education and an immigration consultancy based in Geelong and Bundoora (Melbourne), Victoria offering you advice according to your career vision and circumstances.
Contact us to make huge savings $$$$$$$$$$ by participating in eligible scholarships.
Disclaimer: The above information is not tailored to personal circumstances. For information relevant to personal circumstances, please book an appointment with Oracle Immigration Consultant's expert migration agents in Australia.
For any inquiries, please contact us at +61 430812158. We are premier Immigration agency and consultancy in Melbourne (Bundoora and Geelong).